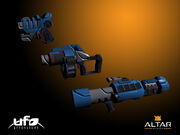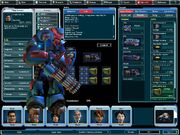 Your soldiers need to be equiped with weapons to attack enemies. This can be done in the Equipment screen in the strategic game.
A weapon's damage type greatly affect its effectiveness against different enemies. Getting the right weapons will make tactical mission a lot easier.
Many weapons can be composed with add-ons and select from different ammo types to enhance their functions.
Weapons are either one-handed or two-handed. Wielding two one-handed weapons will not reduce their stats.
When the game starts, the people will turn up some limited weapons and add-ons.
Most of these weapons and ammo cannot be produced, so it is important to migrate to sustainable arms.
Firearms
Edit
Firearms are well rounded versatile weapons for dishing out Projectile damage.
Weapon
Ammo
Damage
Range
Stats with Good skills
Load
Aimed
Snap
S.Burst
A.Burst
Walther P22
30 Proj
16 m
3.2 s
1.2 s, 77%
-
0.4 s, 50%
-
Dan Wesson 722-VH6
50 Proj
20 m
4.8 s
1.6 s, 60%
0.8 s, 31%
-
-
FN F2000
38 Proj
22 m
4.8 s
1.4 s, 77%
-
0.4 s, 31%
1.4 s, 60%
Pistol
33 Proj
16 m
3.2 s
0.7 s, 77%
0.3 s, 46%
-
-
Rifle
40 Proj
24 m
3.2 s
1.5 s, 83%
-
0.5 s, 42%
1.5 s, 69%
Shotgun
Sniper Rifle
Gatling
Robot Projectile Weapon
Robot Gatling
Beastman Rifle
Beastman Pistol
Beastman Big Rifle
Beastman Cannon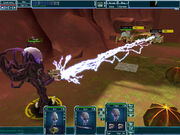 Laser are accurate and long range but has relatively low damage.
Melee weapons has high damage output, and some can be thrown or shot with limited range.
Explosives
Edit
For mines, see devices.