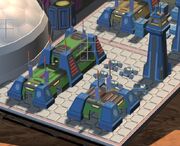 This building is to the West of Civil Engineering.
Scientists can be assigned, and they will set out in scientific craft when ordered to build certain stations.
The game starts with 1 Scientific Bay
Game Description
Edit
The vehicles and stores of field instruments and archeological findings are found in the scientific bay. Scientists exploring Mars reside in this building as well.
Scientists can be assigned to the scientific bay. If they are working on tasks outside the Base, they will still be displayed, but they cannot be transferred to work in other buildings.
Ad blocker interference detected!
Wikia is a free-to-use site that makes money from advertising. We have a modified experience for viewers using ad blockers

Wikia is not accessible if you've made further modifications. Remove the custom ad blocker rule(s) and the page will load as expected.